Security Guard Services for Apartment Complexes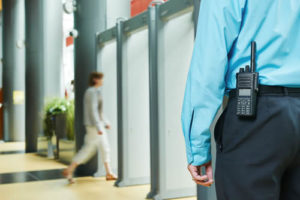 At Eagle Protective Group, one of our primary services is offering security guard services to apartment complexes and gated neighborhoods in the Dallas Metroplex area.
By having security guards posted at your complex whether as access sentinels or for patrolling at required intervals, you can create an atmosphere of trust between tenants and management.
Tenants want to feel safe where they live, and many neighborhoods have issues with property theft, break ins, and car theft.
Posting security guards at an entrance prevents unwanted guests perusing the property without permission. Patrolling the property will make tenants feel safer in their homes as well as catching would be thieves in progress.
At Eagle Protective Group, our apartment or property security guard services can include:
Guard stations
Grounds patrolling
24-hour monitoring/Scheduled monitoring
Entrance authorization
Access control
Parking Enforcement
Emergency and delivery access
Facility monitoring
We can also offer hidden security as well, offering employees to monitor via closed circuit security camera if patrolling needs or gate sentinels are not possible with your property.
In order to facilitate finding out what your needs are, please call us and we'll discuss with you how our security staff can bring peace of mind to management and tenants under your control.
---
Eagle Protective Group loves their customers, and we take great care in understanding our customer's private security patrol needs. Whether you need us for a short event, or long term for your church or school, EPG can cater our services to fit your exact profile.
We also offer Private Security Services such as:
Gated Community Security (Guards)

Security Guard Services for Businesses, schools, and churches.

Private Body Guards

Concierge Services

Celebrity Protection

Executive Protection Agents

Private Investigative Services

VIP Luxury Living Protection

VIP Transportation and more!
Contact us to find out how we can protect you or your business.